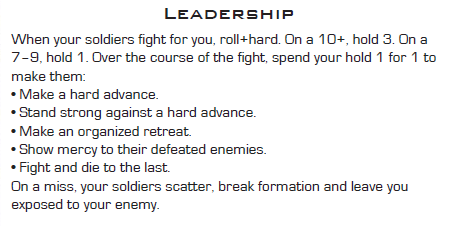 I've been working on a CAG move analogous to Leadership, used to control the squadrons, and something is coming into focus. I don't understand what the Leadership move does.
I get pack alpha. Getting your gang to behave is tough, they're going to fight you, this how you put them down.
But, if your gang is under control, why isn't the character in charge of them, any character just making basic moves?
Need your gang to stay sentry and watch out for intruders trying to sneak in? Read a sitch.
Need them to put the hurt on someone and get them to pay their debts? Go aggro.
Need them to stay the fuck out of site while you lure your enemies into an ambush? Act under fire.
It just seems to me that Leadership is superfluous unless you need it to control your gang, and that's not exactly what leadership does. Sure, on a miss, you lose control, but on a hit you get things like "make a hard advance". What is that? Is it going aggro? Is it seizing by force? If so why not just roll those? If not, what does it do.
In the book Vincent suggests spending hold along with using moves (his example is making hard advance and seizing by force to take a wall). But again I ask what does the Leadership part of this doing? Why couldn't the Hardholder just roll seize be force to take the wall?
He also mentions using the gang as weapons (p.253) but that also just looks like you do basic moves with them.
What am I missing?
Also, if I'm not missing anything, what about a move like this. Strong Hands on the Rein: You can use your Military Unit (my name for gang) to perform all the basic moves. Add these to all moves. On a 7-9, you've got to discipline one of your soldiers after the encounter for something they did or didn't do. On a miss, your MU has broken formation, been routed, or otherwise leaves you exposed to your enemy.