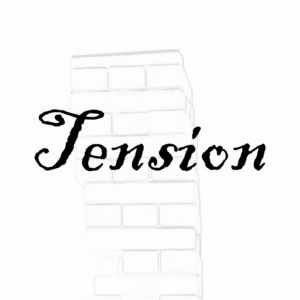 Facilitator: Alex Roberts
Players: Kira Magran and Sean Nittner
System: Tension
Tension: the feeling when you really, really want to, but really, really shouldn't. This simple, intimate game uses an increasingly unstable tower of bricks to represent irresistible but forbidden attraction between two characters. You'll tell the story of how their tension fades, falls apart, or consumes them completely.
Tensions is Alex's super awesome game of flirting and restraint. It uses the stacking block tower to build on it's namesake.
Kira and I played a Werewolf (Michael) and Vampire (Dina), who passionately craved each other despite knowing the monstrosity that would be born of our union. As scions of our clans we were pitted together, always alone, to negotiate a peace between the vampires and the werewolves, but instead we let the world burn to slake our bloodlust.
Oh, and a bunch of friends were watching Ultimate Beastmaster right next to us, regularly shouting and lamenting as their heroes rose and fell. If that isn't enough to make for the most ridiculous, but still super tense game, I don't know what is!
What Rocked
This was totally Underworld and Kindred and every other Vampire/Werewolf story mashed up in a beautiful tangle of goth and rage and suffering and desire. I think I reached my peak Judd Nelson in this game.
The scenes we framed in a graveyard, behind a red velvet curtain, soaked in the blood of our elders, speeding in a car through the city streets at night. All so great and iconic, but also all so wonderful as a backdrop for our intimate conversations.
Kira is fucking amazing. The way she played Dina. Wow. Should should have been the lead, and me the follow!
I like playing with stacking blocks and drawing them out slowly, pausing in the middle of my pull to add something to the fiction. This game really rewarded that. A lot!
This game is so well designed. Hats off to you Alex. It takes the best part of Hot Guys Making Out and Dread and then add a laser focus. I'm super impressed at how well the simple instructions and game mechanisms work. So good!
What could have improved
Wow, I have the brooding and lashing out part but I felt at a loss for saying things deeper than "Dina… we can't do this…" I mean, we had the looks and with the right lighting and sound track, it still would have made for a killer vampire werewolf move, but I could use some coaching on dialog!