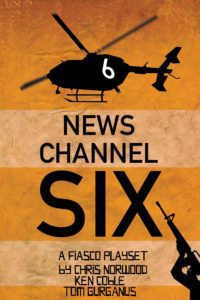 Players: February Keeney, Matthew Klein, and Sean Nittner
System: Fiasco
Playset: News Channel Six
The Big Bad Con board of directors meeting for the month of April has commenced. Minutes for the meeting as follows.
Roll Call: Board Members in Attendance
Megyn Beckerdale, trophy wife of Howard Beckerdale, owner of News Channel Six, and political climber (Megyn, not Howard). The new station anchor, much to Howard's son Glenn's dismay. (Played vapidly by M. Klein).
Alison Glasslighter, a film buff with an incredible eye but no desire to on screen herself. The News Action Six camera operator with an restraining order filed against her, or by her, we're not quite sure yet. (Played earnestly by Febz).
Glenn Beckerdale, the heir apparent to News Channel Six, at least until Megyn with a fucking "y" showed up. Bitter rivals with Action News Eleven and trying to patch things up with Alison and his father. (Played ineptly by Snit).
Meeting Minutes
Here's our meeting notes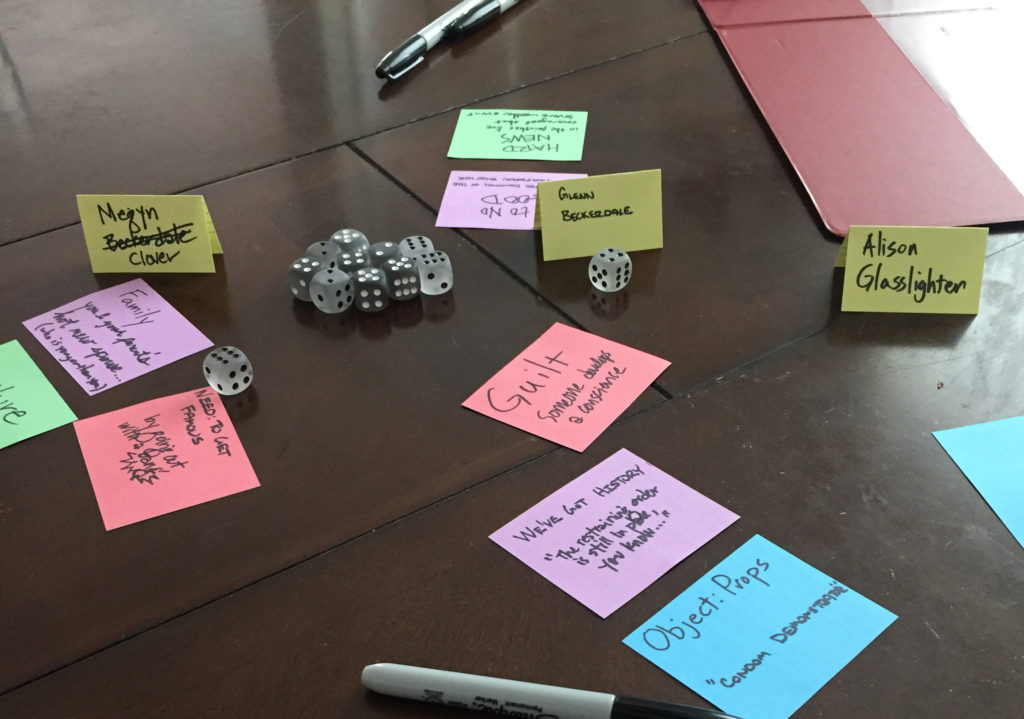 Summary
Megyn got what she deserved. A divorce from Howard and fired from the station. Alison became station manager and the best thing she did was facilitate the merger between Action News Eleven and News Channel Six. Glenn got advice on a "career arc" (and ongoing joke throughout the game) from the much more attractive and successful ANE Anchor Robert.
Meeting Adjourned
That was a delight playing with Matt and Febz. It was the first game we had all played together. It was also the first time I played Fiasco in four years, so it was great to get a refresher.
We had some confusion about who had a retraining order out on who, but it all worked out in the end. Some of my favorite moments:
Glenn not quite getting up the courage to propose to Alison and then everyone jumping out from the condom demonstrator to yell "Congratulations".
Allison blocking Megyn's shot so she was standing right next to the raging river we were reporting on, and then fell into the water behind her.
Howard having a stroke while he was telling Glenn how to be a "real man". Okay, stroke's aren't funny, but Howard was a real shit heel.
Megyn thinking she had Robert completely framed for assault and then finding out there were cameras recording it all.
Allison creating indie films, only to keep having them rejected.
On a meta level, the glee and good-nature "thanks fucker" we had when giving each other bad outcomes. So many smiles.
Room for improvement
As mentioned we had a few things (like the restraining order) that we waffled on a bit not sure how they came to pass or who filed it against who. We worked it out but it did involve a bit of retconnig.
February pointed during one scene that Matt had both opened the scene and set both of our character's agendas, which was encroaching a bit on our own agency and direction. We had a short but super productive discussion about boundaries of narration and a month later when playing a totally different game (yeah, this AP report is really late), I spotted the same thing happening and was able to draw from his discussion to address it, which was great!