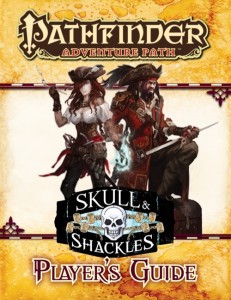 GM: Sean Nittner
Players: Karen Twelves, Meg Pressley, Rocko Moran, and Adrienne Mueller
System: Pathfinder
Adventure Path: Skull and Shackles
A short synopsis
Day 7 – Heavy rains, sodden dispositions. Someone tried to kill Anand by cutting at rope he was climbing up from the crows nest!
Day 8 – The storm hit. Jack went overboard and the heroes took action to save him including knocking Mr. Plug off the wheel to turn the ship around and charming Maheem to lend a hand pulling him in.
Highlights
Vyv makes contact with a parrot named Pluck.
Davey gets healed and chats up the ship's sawbones, Habley.
Anand beats Maheem at armwrestling!
Madi dances well enough to get the crew off their feet as well.
We all pull together to save Jack! Anand swims out to rescue him, Madi throws ropes, Davey turns the ship, and Vyv keeps us afloat!
XP Awarded
150 (Surviving the storm)
50 (Rescuing Jack)
50 (Winning at games)
50 (Entertaining the crew)
Total gained: 300
New XP total: 1625