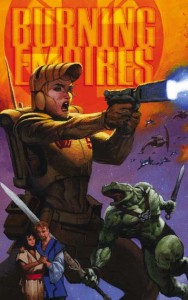 GM: Shaun Hayworth
Players: Sean, Eric, Travis and Kristin
System: Burning Empires
We ended up gaming on a Sunday night because I would be out of town during our normal game time (minor detail: wife's birthday). The game suffered some of its usual starting late plus low energy as the night progresses issues. We didn't do our belief review, which isn't a big deal on its own but it means next session will start that much later. The more I play the more I think Burning games need to be treated a little differently than most RPGs. Usually you set aside game time, game time that is used ubiquitously for pre-game bullshitting, setup, actual play, tangents, breaks, eating, post-game rewards and wrap up. Since in most of these games almost any of these steps can be skipped or at least shrunk down (example: "okay, tonight you guys killed about 20 orcs, so you get 1000 xp each") we don't worry much about fitting them in.
Burning Empires includes a few other mandatory components: Belief review before game, maneuver planning, managing a scene economy (which sometimes means everyone going down the checklist to make sure everyone got their scenes in), maneuver rolls, and Artha rewards. I separate Artha rewards from the standard "post-game rewards" because it's one of the more important parts of the game and can take a fair bit of time.
Given that and the Maneuver details, Burning Empires really needs to be played in a more structured fashion. If we've got three hours to game that means two actual hours of play with a half hour on either end for the game prep and wind down.
And now, on with the show…