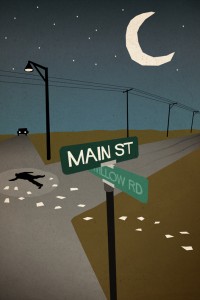 Players: Mary Matabor, Mia Blankensop, Karen Twelves, and Sean Nittner
System: Fiasco
Setting: Small Southern Town
A little bit to show Mary a new game (I think this was her 2nd or 3rd rpg), a little to give Mia, Karen and I more experience with Fiasco (in prep for Improv for Gamers) and a lot just to have fun, we all played Fiasco on Sunday.
Picking a playset this time was easy. We quickly had it narrowed down to three, then two, then one: A small southern town.
Cast:
Calendra Bouyea – A ex-beauty pageant contender, now would be actor and employee at the Calvey owned Dairy Queen. She and Leroy had plans to rip off the secret DQ recipes and open a franchise of their own. While most of the rest of the cast was constantly lying to themselves, Calendra saw everything clearly. She was the only person with any perspective in the game.
Leroy Keel – Manager at the Clavey DQ, he had romantic intentions for both Calendra and Neely, sadly neither of which every came to fruition. Leroy, who hated his boss Rick Clavey, had an arrangement with Neely (his bastard daughter) that she stole from him and Leroy "fenced" the goods, selling them on Ebay as Spitfire99, often back to the addle-minded Charlotte Clavey (Rick's wife)
Neely Pettygrove – Bastard love child of Rick Clavey, Neely was hidden away at her mother's house during the school year but over the summers, while her mother was illegally working her mink farm, Neely was sent to stay with the Claveys, although she was never acknowledged by them. Neely hated her half-family for the way they treated her and constantly stole from them out of spite. Her relationship with Tiara was particularly toxic. A southern Cinderella story with no prince.
Tiara Clavey – A southern princess, her mother had doted on her all her life and given her and her siblings (Cumberbund, Pearl Anne, Darlin and Poodle) everything they could ever ask for. Tiara a beautiful girl grew up going to pageants with Calendra and had a mad crush on her all her life. Though she dated boys all the time, Tiara was crazy in love with Calendra.
Thoughts on the game
I'm not going to go scene for scene here, suffice to say there was theft, unrequited love and accidental murder. Like EVERYTHING a Fiasco game needs!
I was REALLY happy that we kept the cast very tight. The only people that ever made it into scenes were our characters and the Clavey family (Rick, Charlotte and the kids). This meant that we were constantly bouncing off each other, constantly trying to manipulate one another, which is so, so much more satisfying than trying to manipulate an extra (NPC).
Favorite quote (if I remember it correctly): "And we'll watch movies, and we'll play games, and we'll have a tickle party – oh, what was that? That's so silly" – Tiara
Poodle, the six year old daughter, was ubiquitously eating herself silly, making a horrible mess of her brand new dress…in every scene. It was adorable.
When Tiara, who was turning 22, finally graduated from drinking Diet Coke to "Real" Coke, Leroy spiked her drink, and she became instantly hooked on "Real Coke". That one scene (and of course the ones that followed) were so awesome I will ever after follow this equation: Coke + Alcohol = Real Coke!
When Neely did everything she could to kill her half-sister with Cumberbund's poisonous snake (named Precious), the plan backfired when Leroy tried to put the moves on Calendra during the talent show where Tiara was dancing (with the snake) and she tackled him. On the roll of a die, we determined the snaked killed Leroy. It was just perfect. And I so, so, so enjoyed playing a character only in flash backs and aftermath.
The game mostly ended in tragedy, with a small inkling of hope as Tiara, still in mostly a body cast saw Calendra in jail and was just filled with glee. A beautiful closing moment for the game.