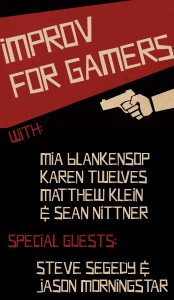 Improv for Gamers
Join us on January 14, 2012 at EndGame in Oakland for an integrated improv/gaming workshop! We're going to explore dynamic characters, collaborative scene-building, and the success/complication model as it applies to role-playing games. Local improv instructor Mia Blankensop will lead a series of exercises in the first half, and the second half of the day will be putting it all together in by playing some Fiasco.
Bonus coolness: Jason Morningstar and Steve Segedy, the madmen behind Fiasco, will be flying out to Oakland to play with us!
Registration is $25 – Registration is now FULL
To register for the workshop, send an email to: ImprovForGamers@gmail.com
Please include your full name. After we receive your email, we'll send you a PayPal request for the registration fee.
All Fiasco rules and playsets provided.
Many thanks to the fine folks at EndGame for hosting this event.
Space is limited to 25 attendees, so don't wait to sign up!
Where:
EndGame
921 Washington Street
Oakland, CA
When: Saturday, January 14, 2012 · 10:00am – 4:00pm