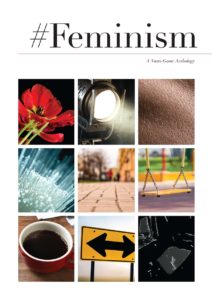 Facilitator: Alex Roberts
Players: Laura Simpson, Hakan Seyalioglu, and Sean Nittner
System: #Feminism nano games
In joint celebration of the Pelgrane Press re-release of #Feminism, of the Big Bad Con 2017 Kickstarter, and of the Actual Play Twitch channel, Alex and I organized a game (or a few games of) #Feminism! Thanks to Laura and Hakan for signing up!
We played: 
Mentioning the Unmentionables: Dances with Vulvas (a fun warm up game that gets you really used to saying the word "vulva")
6016 (the utopian game set in 6016 where students study history from 4,000 years ago with only a soap opera as source material)
First Date (never mind the wage gap, let's ruin this first date justifying the orgasm gap)
A Friend in Need (how we respond to street harassment, and then how people respond to that response!)
Lipstick (Sophia is uncomfortable both with and without lipstick on)
#Feminism on Air
What Rocked
Getting to play these awesome games with awesome people!
Promoting rad stuff!
Tackling some things that put us all out of our comfort zones and doing so mindfully and respectfully.
What could have improved
Some folks in chat weren't prepared for the content that came up, so I think we could have done better at setting expectations in the beginning.
Some folks on YouTube objected to us playing #Feminism games. It's unsurprising but still unfortunate that some of our audience doesn't appreciate these games.