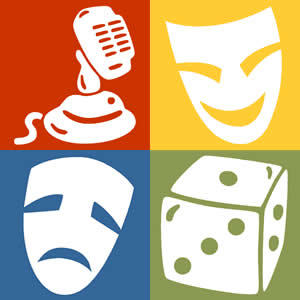 Welcome to a little Narrative Control experiment.  Three very short episodes on very small topics all released in short order.  This show Fattig and I are talking about how to implement a Retcon in your game.  How to turn back the clock.
Hosts: Sean Nittner and Eric Fattig
Length: 17:06
Show Notes
[00:25] Intro to the show.  Three minisodes.
[00:55] The Recton. How to get a game back from over the edge.
[01:16] Suggestion given to use by Alan Smithee.
[01:20] Example: Werewolf: The un-huntering.
[05:09] When should you retcon? Your choice. We're not telling you when to do this.
[06:14] Alan's suggestion on how to retcon.  Zoom back into a frame.
[07:00] There is ALWAYS a frame in place, because we're playing a game.
[08:04] Returning back to the example: we got it wrong.
[08:36] Example: Three guys in a bar retelling a story.
[09:23] Example: Ocean's 11.  You see one thing, but it's an illusion, then you see the "real" version.
[10:07] Example: Film edition, cut out the junk.
[10:44] Example: XXXXtreme Street Luge. The game is played as a retelling of the action.
[12:47] Example: The Committee for the Exploration of Mysteries
[13:18] We do this all the time as gamers. "Oh remember that time…"
[13:30] Merlin movie. Told by very old Merlin. Some things can be fudged.
[14:38] Players need to believe at the end of the day that what they do cannot be unwritten.
[15:04] The retcon should be told in the style of the game.  Keep the story close to the original.
[16:15] Thanks Alan for this idea.  Showing us how to save our bacon.
Direct Download:NC_Episode_062.mp3