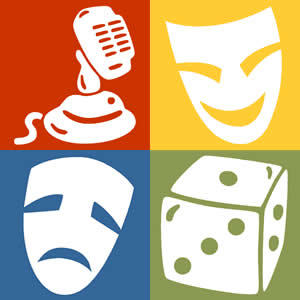 Hi, welcome to Narrative Control Episode 15. This week Justin and I tackle different resolution methods (task, conflict and scene), give a couple examples, talk about the strengths and weaknesses, and as always talk about ways we use them in our games.
Hosts: Sean Nittner and Justin Evans
Length: 24:00
Show Notes
[00:32] Introduction to the show. Task, Conflict and Scene resolution.
[01:03] A lot of podcasts celebrating 2, 3 or even 4 years of syndication. Check them out at RPGPodcats.com
[01:47] Brilliant Gameologists Promo.
[02:03] My New Years Resolutions… not.
[02:20] What are we talking about?
[02:38] Task Resolution Definition by way of example.
[05:13] Consequence of failure in task resolution.
[06:22] Conflict Resolution defined by Justin.
[07:13] Consequences of successes or failure in conflict resolution.
[07:54] Player narration either way.
[08:08] Settings stakes.
[10:45] Comparing Task and Conflict resolution.
[11:40] 4th Edition Dungeons and Dragons skill challenge. A blend of the two.
[12:27] Examples of systems that use conflict resolution. Wilderness of Mirrors, Shadows of Yesterday, Chalk Outlines.
[14:47] Mixing the two. Games that aren't explicit about resolutions. Don't Rest Your Head, you can go either way.
[15:14] Example of combining the two in a 4th Edition Dungeons and Dragons Pirate battle. Task resolution became too tedious. Macro vs. Micro mechanics.
[18:16] Justin unveils it… Scene resolution. Ending each scene with a lead.
[20:23] Task vs. Conflict resolution. Final Showdown!
[23:00] Closing. Let us know what you think. What have your experiences been?
Links
RPGPodcats.com
Brilliant Gameologists
Dungeons and Dragons
Wilderness of Mirrors
Shadows of Yesterday
Chalk Outlines
Don't Rest Your Head
Direct download: NC_Episode_015.mp3