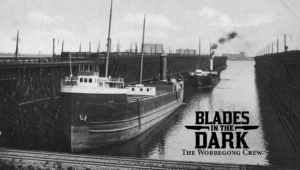 GM: Judd Karlman
Players: Pete Cornell and Sean Nittner
System: Blades in the Dark
Crew: The Wobbegong Crew
Trying to beat the Dimmer Sisters the punch and finding Roric. Not without ghost field troubles!
Be sure to check out the 11 minute mark of part 2, where I say "umm, and uhh" about a thousand times.
Blades on Air