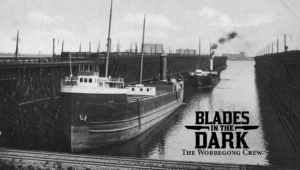 GM: Judd Karlman
Players: Jason Bowell, Pete Cornell, and Sean Nittner
System: Blades in the Dark
Crew: The Wobbegong Crew
Taken from Judd Karlman's writeup:
In which Skannon serves tough time for the gang in Ironhook, Charming get's stitched up and Maud digs in the arcane muck for dirt on Mr. Pritchard. We had time for the gang to go on a good old fashioned smuggling job for the Billhooks – The Benthic Zone Job.
The Wobbegong Crew
Skannon/The Crow: Crow went to jail, served 3 weeks. The dice told us it was a tough 3 weeks and Skannon came away with a new trauma, Cold. He also came out with an iron hook tattoo on his left forearm.
Having incarceration as part of the game is interesting. When Pete rolled poorly, it made for an interesting moment. I didn't want to narrate a difficult time in prison. When he was dropped off to the Bluecoats by the friendly sergeant (mentioned below) when Edlun walked away I said, "He is the last friendly face you see for 3 weeks…"
The only in-prison scenes we saw were his meeting with Torvul to pitch the smuggling job and the tattoo artist who offered to put an Ironhook tattoo on him to commemorate his time. "You can put the tattoo anywhere you want…you've had a rough time of it. Where do you want your iron hook if ya want one?"
I was listening to the video and besides realizing that I need to set up my mic and stop saying, "Um/Uh," so much I also loved how much the crew showed emotional support for Skannon when he returned from a tough 3 weeks in prison. It helped give the decision real weight. Suddenly, it meant something.
Charming: Our Cutter got stitched up and managed not to kill anyone. He tried to bark down a Bluecoat captain but the dice weren't with him and the Blackjack, the crew's trusty boat, got a hole punched in its hull. It was a chill night for the Wobeggong's Cutter, who still has level 2 harm, Stitched Up Bullet-wounds.
Maud: She did some work on becoming the Goat Matron's high priestess and tried to dig up some dirt on their handler with the Hive, Mr. Pritchard.
Maud grabbed a body pff the docks from the Fog Hound job and carved it up on the altar, giving her a vision from the Saint of Witches in which she was in an office on the top-side levels of the hotel watching Hive warehouses used to traffick in Skovlander children were burning. Mr. Pritchard was nearby, his cigarette fell out of his mouth into a nearby puddle. Behind them were local Brightstone socialites with goat masks and daggers.
Sean also inserted into the fiction that the Saint of Witches, the Goat Matron will be angry about the human trafficking, her being a mother and all. Nicely done.
Other Doskvol Notables
Tarvul: The leader of the Billhooks is in jail and he had a scene with Skannon when he was incarcerated, offering a smuggling job to be delivered to his son. Played by the love child of Liam Neeson and Brian Blessed but old. /inside joke
The Pirate's Cove: A ghost infested haven from waves and storms, surrounded by hungry ghosts. Sean pointed out that they know now that a crew of Bluecoats are under the water there and could be grabbed later to be dug up against the Hive if need be.
The Blue Gull: The ship that dropped a shipment of pistols and powder to the crew.
Edlun: The Bluecoat sergeant who went in to the gang's HQ and asked them to hand over someone to be taken to prison rather than sending in the boys with shotguns and billy clubs. I got the idea for him in a G+ thread and thought I'd use him if this entanglement ever came up.
Clocks
Charming got a clock during the mess with the Bluecoat ship.
Captain Bragg seeks out Charming.
What does that mean now that we know that Bragg is dead…or is he dead? Huh.
I also started keeping track of a few clocks that I'll keep privately, just managing where different gangs are in their various struggles and ambitions. One of the things I really like about the factions is that they are all in motion.
The Job
A good ole fashioned smuggling job in the Benthic Zone. I loved it. It got complicated due to an unfortunate roll from their engineer, Kyle. But jobs always get complicated.
The gang accidentally interrupted a deal between the Hive, aboard the Fog Hound, and the Bluecoats, aboard a barge that was supposed to be in the shop for repairs. A small cannon hit the Blackjack below the waterline when Charming's barked orders weren't heeded and his Command roll (Desperate Position/Great Effect) turned sour. When things got messy, the Hive's mercenaries cleaned it up, killing everyone aboard Bluecoat ship and sinking it while the Blackjack limped away.
Skannon got to be stealthy and deadly when he went aboard and killed the Bluecoat officer who ordered the shelling of the Blackjack. It showed how Skannon was now cold, how his time in prison has changed him.
The job was fast; we got it done in less than an hour, jumped right in with both feet.
They delivered pistols and powder to the Billhooks, who made it clear that they were going to use this new gear to give magistrates a very difficult time in the coming week.
When they got back to their HQ, a courier was there, delivering 2 extra COIN on top of the 8 COIN made from the job. Inside was a note from the Hive about silence being golden.
One more thing that happened in the murky area that exists between setting and mechanics. The job occurred outside of the lightning barrier. The engagement roll started with the crew out at sea, packing crates and barrels into their hold with the waves battering both boats. For whatever reason I didn't want to start with the gang figuring out how to get past the lightning barrier.
I e-mailed the group and asked about that and we went back and forth about it a bit. Pete came up with a cool idea:
If I may: Dropping the Wall every time a ship needs to cross it seems like an invitation for disaster. What if all ships are equipped with Tesla or Faraday Cages to disperse the lightning as they breach. That way every time a ship breaches, it pings the two towers nearest it and that becomes a matter of record.

For clarity: when the lightning barrier fluctuates due to a ship breech, the disruption in current triggers a switch on a counting machine. That is what I meant by ping. I didn't want you all to think that anything more complex than a difference engine was at work here.
It is funny that the way discussions are structured in the game is seeping in to our e-mail conversations about the game.
Mechanics
The pressure the game exerts through heat prompted Pete to volunteer Skannon go to jail in order to alleviate the crew's heat. That decision left its mark on the character and the campaign. The heat is on again and we'll have a rough round of entanglements to start the next session.
They jostled some stashed money around so they could go up to Tier 1, giving Skannon 1 die to roll (rather than 0 dice, which is roll 2, take the lower result) while incarcerated. Yeah, while in prison the only thing that you have is your gang's rep. Harsh.
Throwaway comments on how NPC's kept walking into the HQ led to us spending the crew's advance on heightened security – a door and living quarters in the flooded and abandoned hotel under Brightstone where they meet up.
Blades on Air
What Rocked
This is from Sean.
Judd did a great job of giving us a real smuggling gig (better than I do with the Spectral Society). There are plenty of people that want things in and out of the city, and this was a great opportunity to be part of that business!