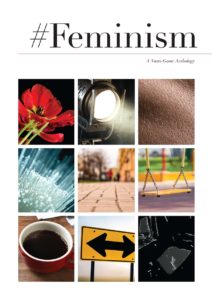 Facilitator: Sean Nittner
Players: Andy Munich, Alex Roberts, David Leaman, and Jeremy Tidwell
System: #Feminism Nano-Games
Our last game of the con and oh, what a good one.
The Flirt
Finally, after several sessions, I added a new game in!
Flirt by Agata wistak (Poland)
Flirt is an attempt to deconstruct the game almost everyone is playing — game of hook-ups, crushes, and scoring!
4–5 players; 60 minutes; Intensity 2/5.
The suggestion that I had heard about this game was to make it a meta-game that was played while playing the other #Feminism nano-games. So. Meta.
Part of the flirt, in addition to secretly assigning roles as (The Girl, The Girl's Secret Friend, The Flirt, and the The Flirt's Friends) is to also make large pile of genders, gender expressions, sexual and relationship orientations, and governing moods. I was a shy, fem, cis-woman. So the intent was to play up these public identities in addition to our secret role while also playing the other nano-games. So. Very. Meta.

Unsurprisingly, we also played the two games that I've come to adore:
Mentioning the Unmentionables by Kajsa Greger (Sweden)
Three games about the anatomy of women. (Dances with Vulva, Dying for a Cup of Coffee, and Just Put Some Salt on It)
3–5 players; 60 minutes; Intensity 3/5.
First Date by Katrin Førde (Norway)
A game about a date gone wrong and a rant about the orgasm gap.
2–5 players; 30 mins; Intensity 1/5.
What Rocked
I was super concerned about Alex being the only woman at the table. It was a mix of wanting her to feel safe and wanting all the men at the table (including myself) to avoid tokenizing or fetishsizing her presence, or you know, just being jerks. I know and love Jeremy and from my knowledge of Andy and his involvement in Geek Girl Con, I felt pretty confident that we'd be in good shape and stay vigilant for any sexist or otherwise jerky behavior. David, who was unknown to me, turned out to be just wonderful as well. At the end of the game (in our overall debrief) we talked about Alex being the only woman at the table and how that affected the games we played and the interactions we had. Thumbs up all around. Yay!
The Flirt was an insidious game. Alex drew "The Girl" and I drew "The Flirt". Jeremy and Andy were "The Flirt's Friends". There were these things that Andy and Jeremy did that really made my mind explode wondering why they did them and what they meant. At one point Andy gave me a very flattering compliment and I first though "wow, that was so nice of him." Then I wondered though, how much was he doing that just to prop me up, to play his role. Jeremy made a move I didn't even pick up on until later. He was about to sit down next to Alex but then changed his mind and said I should instead. I didn't think twice about it, until he said in the debrief that he had done that to put us together. I know we're always operating on multiple levels and everything has subtext but playing this prolonged social deduction game (even when I knew who everyone was) really got me thinking about all the subtle and not subtle things we do to and our reasons for them. Just like the game intended!
What a wonderful group of people and a wonderful way to end Gen Con! Thanks to all of you!
What could have improved
One thing I wasn't able to do was stack the various gender, orientation, and governing moods onto my other roles. I picked the shy, fem, and cis-woman card because I thought I could portray those roles and identities while also facilitating other games, but I think I bombed at that pretty hard. Food for thought.