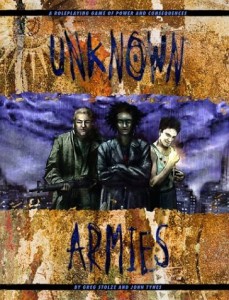 GM: Todd Furler
Players: Sean Nittner, Mia Blankensop, Matt Steele, Zed Lopez, Joe O'Neil, Shawn Endresen
System: Unknown Armies
Game Description: A town must determine how to respond when a hate group announces they will picket the funeral of a favorite son. Players will be exposed to the rhetoric of a real-world hate group.
Todd, at my request, ran Fallen Sons, the transcendental sequel to Thy Will, which I played six years ago and still remember as a favorite.
I was excited for several reasons. To play the sequel to a personal favorite game. To play with Matt Steele, a friend and personal favorite gamer, and to play with Mia, who was leaning a new system, and hadn't played with Todd before.
The game did not disappoint. I had heard that it dealt with really heavy issues, specifically hate crimes, which it did. I also heard that the supernatural elements were both familiar and extremely alien, which they were.
Thoughts on this game
I left out the actual play report because Todd may run it again and I want to avoid spoilers.
The only downside to this game for me was being really frazzled by running the con (and proposing the night before) so I just don't feel like I gave it my best shot.  Nothing terrible, just more distracted than I would have liked.