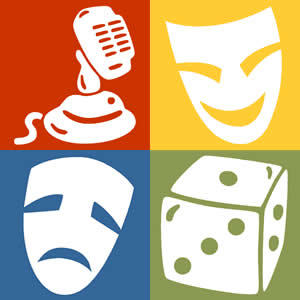 Hi and welcome to Narrative Control.  This episode and the next are all about props we've used in games.  This show we're talking about maps, apparel and dressing up existing game elements like dice, character sheets, etc.
Hosts: Sean Nittner and Eric Fattig
Length:  34:00
Show Notes
[00:28] Intro to the show.  Talking about props.
[01:40] We already talked about some of this in Episode 17 – Included props on the cheap, documents and customized character sheets. Check it out .
[03:30] Maps… the forgotten prop. [04:39] Map of Bel in Apocalypse World:
[05:29] Island map for Agon.  Showed which gods held dominion. Blank version.


[06:31] The Map of Rokugan showing off all the problems we had to handle.
[08:28] Territories in Mouse Guard. Big Map:
Little Map:
[10:30] The map of our memories in 4E.  I put in mud pots for you Babe.
[11:50] Dress like the fiction. Costumes.
[13:06] Gnome spies got (from such classics as Gnomes Like Us, Dr. Gnome and Gnome Impossible) got different hats for each important NPC.
[12:48] Put on a Chiton when you play a Greek.  Dressing up for Agon:
[15:30] Liberty spikes and "distressed" wear for Apocalypse World:
[16:22] Laurel wreaths for the gods: Laural wreaths at Amazon.
[17:02] Getting costumes at local costume shops, like this one at UC Davis: Enchanted Cellar.
[18:21] Mons in our L5R game. Badges of office, clan, family or post.
[20:07] More subtle effects.  Dresden Files cops game, I took the role as the police chief, I kept adjusting this:
[22:07] Dressing up the existing gaming elements: Dice, character sheets, game currancy (style dice, fate chips, artha, etc).
[22:50] Police Dresden game: Badges on Fate chips made with Token Tool.
[23:31] Used Gwendolyn and Liam for Persona and Fate in Mouse Guard:
and
[24:05] Matrix: There is no spoon.  Currency in RAM:
[24:49] More generic. Poker Chips: Discount Poker Shop. [25:43] Apocalypse World: Shotgun Shells.
[26:53] Mouse Guard – Dice color matched the cloaks:
[27:51] My Life with Joker: Purple and Green Dice at Chessex.
[28:12] Burning Empires.  Blue became the color of the common people.  Nobody wanted the blue dice.
[29:03] Burning Wheel. The Gift.  Dwarves get red dice, Elves get blue.
[29:44] Character tents.
[30:00] Pretty character tents.  Clear picture frames at Bed, Bath and Beyond
[30:36] Including other bits like characters keys (from Shadow of Yesterday), aspects (from Fate), etc.
[31:12] "Dude, where's my sword?"  Players poking each other in the keys.
[32:23] Aspects on sticky labels to add to character tents.  Here's my Mouse Guard traits:
[33:26] A hint of the topic to come soon.
Direct Download: NC_Episode_053.mp3