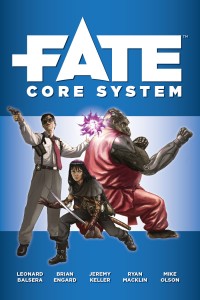 GM: Morgan Ellis
Players: Eric Fattig, Eric Lytle. Sean Nittner, Julie Southworth
System: Fate Core
Setting: Fight Fire by Jason Morningstar
I've really wanted to see what Fight Fire looks like in play since I first heard about it. A very specific system designed to emulate a very specific thing. When the doc was floating about and I first checked it out I saw that the skill list had changed to just nine skills, things like vent, and extinguish. Similarly the fires themselves were more than just "on fire" but had their own skills like spread, and burn, and had ways that they acted specific to fires themselves.
Jason took the idea of a Fate fractal and really ran with it. Though the core mechanics were the same, you wouldn't recognize this as looking like any other Fate game. There was also a technical element to it. Certain thing had specific effects in game. For example if you use the vent skill you can either "Vent for Life" to let the smoke out so people can breath, but also gives the fire more oxygen to burn or you can "Vent for Fire" which smothers the fire, but makes smoke worse for anyone inside. These choices matter in this game.
We made our characters, the Roofer who was always late on his alimony check, the Irons who had dreams of making it big as a chef, the veteran Can who was bucking for promotion, and the rookie Vent who was trying to prove herself.  We did some relationships mapping during character creation. The Roof's ex-wife was the Can's daughter and all that sort of deliciousness.
Fire is a living thing
That's a situation aspect on ever fire you fight. It isn't a single threat you stamp out, it's a living thing fighting to survive and grow. We started our game with a call "Apartment fire at 1732 Whimett Ave". When we arrived the thing was a mess. A woman trapped inside, open fires in at least two rooms, and spreading.
We started up following protocol: Vent, Enter, Search (VES). That lasted about five seconds until problems started altering our plan. Irons had forgotten his mask, which was bad. Our Vent ran it to rescue the woman with a broken hip, but consequently wasn't venting, and Cans sprayed his propellant but the hose wasn't coming in for him to get more water.
This was generally a result of failed rolls that we push through anyway with significant costs. All grist for the mill. We saved the lady. We put out the fire. We all made it home alive.
At the Firehouse
We realized the game has no skills or mechanics for downtime interactions. I mean, there is the grease skill for getting funding and equipment, etc, but it's hardly the normal breadth of personal skills that Fate Core normally has. We talked about this at the table, about how we wanted to handle it. Do we skip over personal scenes and go right to the next fire? We pondered if that was the intent of the game. After some discussion we decided we'd use the aspect compel mechanics to push tension and then Morgan framed a scene for each us, dealing with our trouble aspects. It was good stuff. We saw different sides of our characters as our personal lives reared their ugly head.
One fun conclusion we came to was that because we had no skills besides fighting fires, we should take from that the idea that fighting fires is all we're any good at, and that we'll generally just fail over and over in life outside the fire. It was a good premise, and watching our characters suffer a bit was lots of fun.
MVA = Many Viscous Aspects
Okay, it really stands for Motor Vehicle Accident, but the way Morgan presented them, as a series of horrific situation aspects we had to overcome, I think my acronym is better.
The MVA was at the North East corner of 2nd Ave and E Houston St. It was terrible, a car wrapped around a power pole, with leaking gas coming out, a sparking power line hanging precariously low, a meth lab in the trunk, a dying driver, noxious fumes, and a meth'd out passenger. JESUS.
The thing about this was, I could believe it. Things are that messed up sometimes. The way Morgan handled this was really just a series of aspects we needed to overcome, but some of them morphed from one problem into another one when we failed rolls. It was good times. It was also a great example of not being able to save everyone. The driver was bleeding out bad and using the jaws of life to get the passenger out, meant him sustaining trauma he simply couldn't sustain.
My favorite part of this particular "fire" was when Morgan compelled my "Acting Lieutenant" aspect to say that the city didn't have my name on file to authorize cutting the power to the power lines… so Irons had to cut up the box and do it for us. That was brilliant!
Thoughts on this game
It was still not in the printing stage when we played, which means after I got to talk to Jason and Brian Engard (the system developer) and Brian added in a bit about how to handle play at the Firehouse, which I think is a great addition.
The game was a ton of fun and I think would be more fun the more acclimated we became to the implicit constraints (moving between two rooms with the door open still isn't a trivial action if the room is filled with blinding smoke and/or a raging fire).
Morgan, as always, was stellar. He's a very pro-player-fun GM and it shows every time he runs. Great time.
Lytle… how could you let the captain go like that? For shame.