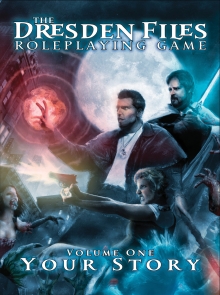 GM: Many
Players: Even More
System: Dresden Files RPG

http://www.endgameoakland.com/dresdacon/

Not really an actual play post because I didn't actually play, but I saw a lot of it. EndGame in Oakland hosted a one day event celebrating the release of the Dresden Files RPG and had a great turn out. Of the staff, Fred Hicks and Lenny Balsera both flew in for the event. Ryan Macklin (local to Oakland) of course showed up, as well as fellow evil hatter, Paul Tevis. On top of that some of the Good Omens crew (Mike Bogan and Kevan Forbes) were present, playing in one of the games. On top of that Adan Tejada brought delicious food from Mario's La Fiesta for everyone.
So… how was it? In a nutshell: Awesome. Ryan and Lenny were both running games, as well as some other cool folks (Eric and Xavier that I saw, and more in the afternoon session). A ton of books (which are beautiful) were out and everyone seemed to be having a great time. I got to see the Case family (Loyd and Elizabeth), which is always a lot of fun for me as I love both of them (and found out they were both in my games coming up the next week at Good Omens Con).
I had both kids with me, so playing in a game seemed inadvisable, but I had a great time just hanging out listening in on games, talking to the Endgame folks, and chatting with players during game breaks. The kids of course, were bribed for their patience, with a copy of Sheer Panic. That game is great.