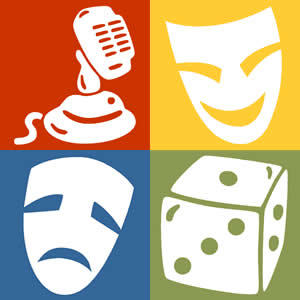 Hi, and welcome back to the show! We're talking to Kate and Hakan about how awesome language is and how they use it in their games!
Host: Sean Nittner
Guests: Kathryn Hymes and Hakan Seyalioglu
Length: 51:05
Inspired by listening to Alex Roberts (Backstory)
Game we talked about:
Sign – A game about being understood
Dialect – A game about language and how it dies
Gushing about Dialect:
Truckers on Mars – a game that's structure was built around the language we made! Not what I expected.
Procedurally generated scenes that were very compelling.
Secret Sauce: mayonnaise in the sun… actually, it's "can you tell a story while building a language?"
Language creation as a window into people and identity.
You pick the things that are important to you and build off them.
Friendship as a byproduct of games.
Sean's hypothesis: Any subject that people are passionate about could be turned into a game. Discuss!
Game as non-dogmatic, non-prescriptive way to share your passions.
People who your game connects with are kindred.
Responsibility of the Designer
Making sure that you're respectful to the subject matter of your game and the communities that identify with the subject matter.
Lessons learned from sharing sign with the deaf community and getting feedback.
Conventions we've just been to or are going to soon:
Origins (Hakan and Sean)
Go Play Northwest (Kate, Hakan, and Sean)
Gen Con (Kate, Hakan, and Sean)
Big Bad Con (Kate, Hakan, and Sean)
Panels at Gen Con Kate and Hakan are on:
Gaming community
Welcoming new players to the community.
Nurturing a fledgling community and new players.
Mouse Guard is a great game for new players.
Language in Design
Fundamental to identity and relationships.
Uniquely human.
We absorb a ton of information through language.
Ritual Phrases for the win!
Hopscotch, the Larp. Kate and Hakan's next game!
Direct download: NC_Episode_084.mp3