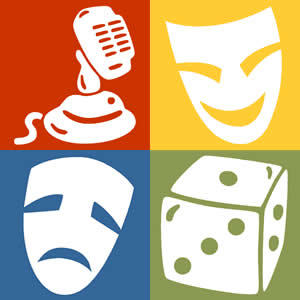 Welcome back to Narrative Control – Season Two! Justin and I took a two month sabbatical to reflect on season one and plan for the new material. This week we're bringing you Ira Glass. He has a few YouTube videos up on storytelling that both Justin and I really enjoyed. Here's our take on how his advice applies to gaming.
Hosts: Sean Nittner and Justin Evans
Length: 26:14
Show Notes
[00:32] Welcome back to Narrative Control.
[01:07] Preview of Season two. What is the new season all about?
[02:16] Intro to this episode: Storytelling by Ira Glass (of This American Life)
[02:49] Links to all four clips of Ira: Part 1, Part 2, Part 3, and Part 4
[03:27] An excerpt from Ira's clip. The building blocks of a story.
[04:19] Our discussion on the antidote. In RPGs the antidote is a sequence of scenes.
[04:59] Made more complicated by every player acting as a storyteller and a protagonist.
[07:07] Sons of Kryos talked about "weaving" threads together.
[09:31] Passing scenes around like a hot potato. SoK talked about this a well!
[10:20] An excerpt from Ira's clip. Raising questions and answering them.
[10:57] Bait. Asking questions and the implication that you will answer them. Our discussion.
[12:06] What is that bugbear doing? Why is he running? Where is he running to?
[12:50] Introducing new "bait" to keep the story interesting. Mixing short and long term goals together.
[13:59] An excerpt from Ira's clip. The moment of reflection. Why are you listening to this story?
[14:21] Out discussion. Not necessarily present in RPGs.
[14:50] An opportunity for reflection to allow players to understand what is going on in the heads of the other characters.
[15:00] With Great Power has the Thought Bubble.
[15:12] Sean's L5R Game – Sapphire Magistrates. Exposition created through character scenes.
[17:31] Moments of reflect allow you to give a flag to other players so they can contribute to your fun.
[17:53] Some settings make it VERY hard to share the meaning of an event to a protagonist. This can be used to create suspense if we intentionally hold out on reflection to keep the audience guessing what something means.
[18:56] Some systems that build in reflection. In Inspectors there is the "confessional." Confessionals can completely change the meaning of a scene you just watched.
[20:42] Montsegur 1244. Everyone knows that the game will end with a reflection scene as the characters explain why they chose to convert or burn at the stake.
[21:15] Roanoke has a moment of reflection tied to the Doom of the island at the end of the story.
[22:39] Reflection baked into Dogs in the Vineyard. Each conflict ends with traits changing to reflect on the conflict that just happened.
[24:07] Wrap up: The anecdote, question and reflection.
Direct Download: NC_Episode_034.mp3