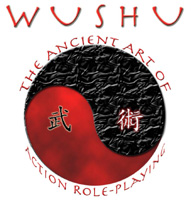 Wow, I'm feeling very happy. I play-tested my Matrix game (There is no Spoon) yesterday and it went very well, better in many ways than the Exalted game I ran two weeks ago. Both used the Wushu system but after having run it once I felt much more comfortable doing it the second time. We had some awesome scenes including a very John McClane moment of blowing up and entire building floor, leaping down six stories, then eight stories then thirty stories!!! The fought agents, more or less got pummeled by them, but got to bash them around quite a bit too. We had explosions, car chases (or sorts, one of the characters was leaping from moving cars), and deception. I really enjoyed the game and the feedback given by the players will make it even better during the con. Two of the best compliments I got at the end was Steve saying it was "pretty good" which a huge achievement given that he doesn't like the Matrix and Erik wanting to borrow my copy of the movie after the game. All in all, I feel much better about this game than I did before the play-test.
I've got a long list of good things to keep as well as improvements to make so I'll have some work cut out for me before Kubla, but I'll be happy to do it.
Next post… later last night.