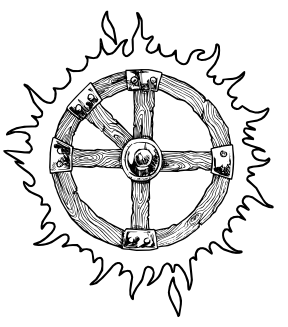 GM: Shaun Hayworth
Players: Sean Nittner, Kristin Hayworth, Justin Dhiel
System: Burning Wheel
Setting: Burning Theorsa
The setup for Disaster
Baldric demanded that Beliah (the leader of the Ophidians) besmirched his honor. He cornered the Sergeant into allowing him to duel the monster. He was the challenger however, so Beliah set the terms of the duel: swords, no armor.
The dueling ground set, Belia unfastened her breastplate and dropped it to the ground. Meanwhile Baldric conferred with Moya. "I know your mind Moya, you won't honor this duel, but promise me, promise me that you won't interfere, that you won't use sorcery unless she does first."
Then, without warning, he grabbed hold of her and pressed his lips to hers. "What are you doing?" she yelled the moment he let go. "What I should have done moons ago." With that he pulled his sword from his sheath and entered the ring. Oh yeah, way to confuse your older half-sister.
Chaos ensues
The fight was going back and forth, each warrior trading blows. Baldric had taken first blood early on, but Beliah had come back with a nasty blow to the head and blood was dripping into his eyes.
Baldric faltered and Moya decided if she was going to act, she needed to act now.  She stepped into the ring and cast choking hand on Beliah, dropping her to the ground, where Baldric disemboweled her.
What the what?
There was a moment of silence as everyone took in what just happened. Sergeant Telgarn, who had approved the duel, stepped forward and asked what exactly was going on. "What kind of man fights like this? Who brings his whore in to fight his battles for him?" It might have been the way she was gesturing at Moya, but Afon, who had found a precipice with a good vantage point, saw Moya in danger. He took aim, and fired, an arrow right through Telgarn's back.  The arrow exploded from her chest and she fell down dead.
FIGHT!
So, all along the Al-Amesh and the Ophidians had been getting ready to take advantage of this duel to unleash some aggression on each other. And that arrow was just the thing they needed. A gigantic fight erupted. Ophidians vs. the Al-Amesh with the Theorsan forces trying to press them both back. In the middle of it was Baldric and Moya, staring daggers at each other.
Thoughts on this game
The way the duel was interrupted was that Moya waited out the first exchange (3 volleys of Fight!) casting her spell and then engaged in the second exchange when the spell was ready. It was a bit fiddly to figure out, but it worked.
My first reaction to this game was a lot of frustration. Two things, very much out of my control, sent the story in a direction I was totally unprepared for. I had wanted a kill, in fact I had even wanted a difficult kill (Baldric had a superficial and a light wound, I was very happy about that, and would have happily taken another), and out of the blue my opportunity for that was gone. Further, my character's sense of honor was thrown in the trash. So, while I generally crave punishment for my characters, this felt a little like his core concept was shattered. I was trying to keep that frustration under wraps, be a good sport and accept that I don't get to control the outcome of the game. Despite that I can tell that everyone knew I was frustrated. Mostly I just needed a little time to both cool off and figure out what to do next.
Thankfully, with a week between games I got exactly that. I thought about what would be a good direction to go and decided that based on Moya interfering, that while as a player I was now cool about it, Baldric was furious and it was time to really have at it with her. The belief I wrote for the next game was : "Moya has betrayed everything I hold dear. I'll cut the lying tongue from her mouth." Severe yes, but I talked to Kristin about it some and she was down. She walked into the game thinking "damn, what if we replaced my tongue with a dragon tongue, how awesome would that be." It seemed like a fitting reaction.
I see this as a turning point for Baldric, where his ideals finally fall short and his own inherent barbarism can no longer be tempered by his upbringing. We talked after the game and it occurred to me that this was one of those incidents that will have repercussions for ages. It's going to change the characters and the way they think about each other. And now having played a few sessions since, I can confirm that is true. Good stuff there!