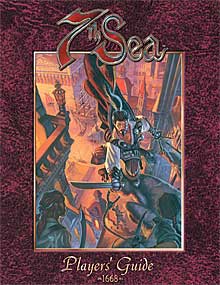 System: 7th Sea
Don't have nearly as much to say about this game as I usually do.
What rocked

Jeremy is really improving as a GM. He gave us time to play out our own antics, gave me a bit of spotlight when talking to a bear, allowed for our characters to bend and twist the plot somewhat (going back to fight when we I'm pretty sure we're supposed to run, and sneaking in to see what happened with the secret letter).
Lissel was the new character and she was a lot of fun. The men all went back and forth between acting like fathers and suitors, which was quite comical. As she must remain chaste but is fascinated by courtly love, we had a really good time.
What could have been improved:
They should have just take this module a step further and actually have it take place on a train. Nothing more to say about this.