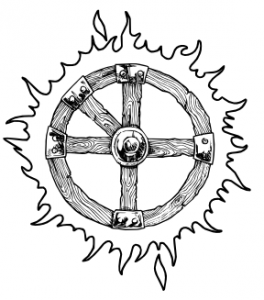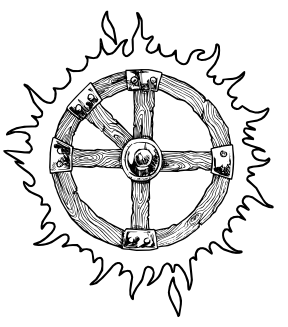 GM: Sean Nittner
Players: Shaun, Kristin and Fattig
System: Burning Wheel
Setting: Empire of the Golden Dawn
The sane part of the story.
The rebels entered Al-Hajib with the mission to liberate it from the Ironbound and earn the support of a city. Personally, Siti had come to do a job, Atreus was there to usurp his brother and Onerus just wanted to go to Al-Hajib to spite Riska…. So yeah, all noble intentions here.
The entered the city and immediately found that the natives worshiped the Ironbound as gods, to the extent that when Atreus walked in the front gate he was swarmed by locals asking him to cure their sick, bolster their crops and otherwise solve all of their ails.
Siti had a run in with a rooftop gang called the desert rats, who she sold out her own caravan to get information from.
Onerus started it off by telling three farmers they were stupid and ignorant and eventually sowing the seeds that the Ironbound are mortal (which you know, really isn't true either, but it's a good line) amongst the disgruntled peasants.
As the session went on Atreus declared that the "healing" for a sickly babe should be to cast it out of the city and let it die in the desert, to preserve the people. His orate roll, however, failed him miserably and the people appealed to a yet higher power (the one of the original Ironbound who roamed the city), who confronted Atreus and told him to return the child.
Fight! started but the Ironbound really didn't want blood. In fact he so vehemently opposed to any more bloodshed that he captivated Atreus with a song and sent the gladiator fleeing into the city. Atreus set off to find Lateef, who had traveled with them and feeling that he had been robbed by Atreus and Onerus decided to take his fare back by drinking himself into oblivion on their bill.
Tweet report:
Siti, having sold out the caravan (which got robbed that night) prepared to assassinate Ishok (Atreus' brother and the leader of Al-Hajib) by acquiring a horrible excuse for a maid costume and sneaking into the palace.
Oneris returned to the caravan to find things in a total mess. The caravan had been robbed and an angry café owner was demanding payment for all of the spirits Lateef and drunk on their bill. He told everyone they could go to hell and the proceeded to scrounge about the city to try and put some order back into his caravan.

Well, that's when things went a little nuts.
The sane bits… Siti killed Ishok, quite handily by the way. But was caught fleeing by the Ironbound who wanted an explanation for her bloodshed.
Tweet report:

Then came Lateef and Atreus. Long story short, after some haggling Lateef agreed to kill the Ironbound for 15 sheckles and sex with a wizard.
The tweet report does it more justice, or more injustice, or more something.
We ended with a narrow escape by Oneris and Siti knocked unconscious by the Ironbound. The ruler of the city is dead, but gaining the favor of the people may be difficult as they nearly all hate the player characters.
Final line: "He raped a line too far."-@TheFattig #burningwheel (via @_TheRussian)
What rocked
"Can I draw two swords?" "Sure." "Wait, I've got a baby in one hand. Baby trumps sword. Ah hell, I throw the baby at someone, it doesn't matter anymore."
I really had a good time giving Onerus the tough job of sorting out all these bills and debtors. He's said that his character is very similar to House, so I I've responded by having a bunch of both ignorant and intelligent people throwing their problems at him, some with ideas (usually bad) of how to solve them.
Shaun said he liked Fight! and I had been a bit reluctant to jump into one (because it has been a long time since we did it) but we had two, and then were both pretty cool. Realized I could have handled the "chase" between Siti and the Ironbound with Range and Cover rules rather than an opposed speed test.
Lateef is a lot of fun for me to play because he's so callous about certain things (i.e. killing people) but still swears he's got a broken heart. He's got layers… like a cake. I'm not sure I was ready for a Fight! that resolved a rape, but it sure did a lot for building the character relationships.
What could have improved
I'm not sure what are good ways to challenge Siti during her assassinations. I think allowing the assassination to happen without much stiff resistance and then having the Ironbound arrive just after the fact was a decent challenge but it was quite contrived. I definitely want her to be able to do her job, just not sure if I'm making it fun enough.
We ran into a rules question that we didn't know how to resolve. In a versus test, If one side is at +3 OB and the other side is at double OB, and both sides roll 5 successes, who wins? My initial thought was the side that had double OB was facing OB 10 and the side at +3 had OB 8, but then neither would win and this was a versus test, so we were looking for a winner. I could have called it a tie, but decided to go with, the side at +3 OB one because they got closer to their OB (5 out of 8) than the other side (5 out of 10).
I may have played the Ironbound too heavy handed, I'm not sure. Physically he could defeat any of the characters, but his tactic was always one of discussion. Well, I get the feeling the players are all just going to gang up and kill him anyway.